Breathing Beer: the Czech Republic (1/10: New Stuff!)
April 6-11, 2005
In which I am flown to the Czech Republic by Distinguished Brands International, the importers of "Czechvar," the Beer That Dare Not Speak Its Name -- it's Budweiser, okay? -- to visit the Budweiser Budvar brewery, see a hockey game in far-off Pardubice, mingle with a bunch of writers (including, inevitably, Jack Curtin), sight-see in Prague and Ceske Krumlov, drink absinthe and other odd spirits, and eat a lot of pork and dumplings. You're going to get it in parts...here's part one.
First Day: Never Sleep, Never Wake Up, Prague Never Ends
Today I woke up in Ceske Budejovice. I expected to, that's where I fell asleep last night. And when I say I fell asleep last night, believe me: I earned it. Yesterday, the long first day in the Czech Republic, seemed like it would never end.
Part of that "never end" stuff was my traveling companion's fault: the inimitable Jack Curtin. We were supposed to meet up at 30th Street Station to take the R1 SEPTA train to the airport (I'm becoming quite the mass transiter lately), but I was early for the late train, and Jack was late for the early train. So Jack was hanging around waiting for me at the airport while I was hanging around waiting for him at 30th Street. Morons.
I wound up getting taken aside for extra searching at Security. The TSA guys were real nice about it, answered some questions for me ("Could I have brought my flask with me?" "What, liquor? Yeah, people do it all the time. No 151, no problem."), and made what could have been an infuriating process mildly amusing. Jack got the same treatment; it was because DBI had bought our tickets less than two weeks before the flight. No biggy.
I caught Jack at the bar in the terminal -- you're shocked, I'm sure. We scarfed some pretty decent cups of Guinness, (better get some before we go to Lagerland!) then caught our little turbo-prop flight up to JFK. It was a gorgeous day, the shore and the ocean was beautiful (although the Delaware River was still showing obvious signs of the heavy flooding that week). We landed, and headed over to our connecting flight.
We met the rest of the bunch at the CSA (Czech airlines) gate. (The following is the whole party; three of them would join us in the Republic because of flight delays.) There was the woman who'd put the trip together, Sheryl Barto (who also put together the trip that got me to Oktoberfest, God bless her soul), and her friend Teri Grove, both troupers. DBI president Jeff Coleman was there, bigger than life (and with better stories), along with DBI sales reps Kiff Forbush (a huge jovial young fella) and Terry McSweeney (an eye-twinkling Irishman who never seemed to stop moving), and office manager-type Jillian Blodgett and her husband Nate, who was looking good at this point...probably as good as he'd look the rest of the trip. We also had along four reps from New Age Beverage in Denver (DBI is in Littleton, CO): Chuck Northrup, Brian Keller, Melissa Kier, and Rick Hunt. Rounding things out was the unflappable Ralph Mauriello, owner of SKI Wholesale Beer in Brooklyn, and Mike Caple, coach of a Colorado junior hockey team (and just married a week ago).
Oh, and the other writers! There was Jack and I, and Kerry Byrne, who you've met earlier, and are bound to meet again (I'm going to be writing about beer for his mercilessly accurate NFL site, Cold, Hard Football Facts; watch for the announcement). That was a sore subject during the trip: CHFF was down and his web guy was apparently off in the wilds of Maine without a sat-phone. The savage side of Byrne was soothed somewhat by the laughing presence of Yankee Brew News and All About Beer contributor Gregg Glaser, another New Englander (Kerry's from Braintree, as about six words out of his mouth would convince you) and Ron Givens, who writes about beer for the New York Daily News and is possessed of the truly goofy sense of humor that only comes from the Midwest. The group was completed by Jim Lundstrom, who writes on beer and music for the Appleton (Wisconsin) Post-Crescent; Jim was a quiet guy, always taking pictures, but I noticed he drank more absinthe than the rest of us.
Land, Suck Cash, Buy Beer
The only stuff worth talking about on the flight (the beer) is in the May Buzz. Except for a spot of turbulence early in the flight, it was uneventful and competent; I'll fly on CSA anytime. I didn't sleep, but then, I hardly ever do. We landed at Prague-Ruzyne about 7 AM local time, farted around getting luggage and through passport control ("Unh?" "Business." "Unh." STAMP!), and Sheryl made contact with our guide, Eva. Eva had a pretty fair command of English, but didn't really have the saintly patience, the serenity, to shepherd the bunch of fatigued drunks we would soon become.
And it didn't take long. We were at the ATMs sucking Koruna out of our bank accounts (23K to $1 at that time) and headed for the drink shops. Byrne and I grabbed a variety of canned beers: Staropramen, Budvar (of course), Gambrinus, and another one that escapes my memory. We hustled them out to the bus, where we were told by an indulgent Coleman that he didn't mind, as long as we didn't get any Pilsner Urquell. I think he was kidding. I think. This is when we met our bus driver, a middle-aged man of medium-height, possessed of a bright, half-mad, birdy eye and a misleadingly quick smile. The first thing he said to us was "Hello. My bus. No democracy. I dictator. No democracy. Put on seatbelts!" We found out later that this pronouncement pretty much exhausted his English. Or so he claimed. I didn't trust him (what the hell, he didn't trust us!), and dubbed him Ivan the Terrible.

Ivan finally took the wheel, and drove us out into the overcast morning. Exit signs looked the same as home – green signs with white letters, albeit in an absolutely unfamiliar language – the towns and terrain looked pretty damned familiar to any Pennsylvania native, too, which was kind of weird. Jack and I took the opportunity to drink (see left). After about a half hour's worth of winding down through wooded vales, past cement factories and their spawn of cliff after cliff of chillingly dull Soviet-plan apartment buildings, we were driving through what seemed like a rather nice little town. "Where are we now?" I asked Eva.
"Oh, this is Prague 7," she said. Jack and I looked at each other and grinned the knowing grin of the comic book fan.
"Bizarro Prague," he said.
"Crisis on Infinite Prague," I replied.
We finally got out of Prague ("Where the hell are we now?" "Prague 29.") onto the open road, and Ivan…didn't open her up, like we were expecting. People are passing like lunatics, and Ivan just kept it steady. Coleman was chafing a bit, as we were: the beer had run out. Either Ivan sensed this, or Coleman gave him the word, but we pulled over at a gas station. Lemme tell ya: gas stations in the Republic don't just sell beer, they sell a lot of beer, plenty of caffeine-bomb drinks (I got me a big one), a little bit of wine, and bottles of liquor. And porno, too, but I've been exposed to eastern European porn, and I never ever want to see it again. We stocked up on beer again (lots of Budvar...er, I'm sorry: Budweiser), and got back on the road. By the way, if anyone told you beer was cheap in the Republic, they're absolutely right. Most beers were less than a buck. The most I paid was about $3.50, which by the time it happened I'd been acculturated to the point where I thought that was outrageous. Heh.
Ceske Budejovice: the Whole Point
We finally got to Ceske Budejovice, where Ivan drove the bus right into the square. This was great, because it meant he ran into a local traffic ordinance: no driving busses in the square. Or no driving in the square in a counterclockwise direction. Or no driving in the square for snooty out-of-towners. Or something. But he got whistled over by two beat cops, and I was keenly paying attention to see how (former) Eastern Bloc cops worked these days. Stonefaced, man and a woman, looked like something out of Hill Street Blues...that is, until Ivan and Eva figured out that they had to "pay a fine." Eight bucks. Cash. Which I figure means that Ivan had broken the law of The Local Cops Don't Get Paid Enough.
After that little squeeze incident, and the seriously tight streets, we had just time to check into our rooms at the Hotel Dvorak ***** (where we learned that ***** was part of the hotel's name, not a rating. Oh, those tricky Czechs. Still, for Ceske Budejovice, it was fine; pretty roomy compared to some of the chicken-shack places I'd stayed in Italy. Back on the bus, NO DEMOCRACY, I DICTATOR!! Ivan was putting a bold face on things after his humiliation. Geek.
The sun finally broke out as we headed for the brewery. We wouldn't see it again until the morning we left for home. Erk. A short bus ride later -- short enough that no one fell asleep -- we were pulling up to the brewery when Coleman calls out "That's him, that's the brewmaster!" Sure enough, there's Josef Tolar standing on the sidewalk in a leather jacket, impatiently waiting for us. Oops. We stumbled off the bus, and after a brief shuffle-together in the lobby of the brewery, they took us to lunch in the brewery restaurant.

The restaurant was clean and bright, whitewashed vaulted ceilings, an above-ground beercellar. A very snappy bar caught my attention as they herded us to the back of the place: gleaming taps with big round handles and stylish spouts, manned by a big fellow in a spotless uniform. Our waiters and waitresses were likewise kitted out in starched finery (including one grinning fellow with mutton-chop sideburns), and they seated us at a U-shaped table and took our orders. There was "pork," "chicken," and "vegetable skewers." I remembered the non-stop protein and grease diet in Germany, so I opted for the vegetables and a Budvar. The Budvar was great, a half-liter draft that had the grassy-piney-spicy hoppiness I love so in Budvar, along with a clean maltiness sharply sliced by crisp carbonation.

Great stuff. I got that into me, and figured to get more. The meals weren't coming, so I took the opportunity to wander back towards that bar, ostensibly to take some pictures, but actually to scope out the selection. The guy was pouring a dark beer! Hey! I want some of that! Sure enough, the waiter brought me one and everyone wanted one. Smart, too, because this Budweiser Dark, Budvar Tmavy, was absolutely top-notch stuff, smooth and malty with more body and lower alcohol than the standard Budvar. It was great, and we would drink LOTS of it. Don't look for it any time soon, though, they have this weird idea that we wouldn't drink it. Fools.
Then someone found out (probably by asking the brewery reps sitting with us) that there was another beer to be had: Bud Super Strong. It came in bottles, and poured a darker gold. It is 7.6% ABV, quite fizzy, and noticeably bitter, but still quite sweet. I wasn't nuts about it. I've definitely had better strong lagers. Then lunch came: oh, God. The vegetable skewers were pieces of broccoli separated by big chunks of cheese and then deep-fried! Eastern Europe. They can't help it. Still...it was really good!
More Bud Dark with dessert: blueberries and pancakes. We milled about a bit after lunch was over, then headed off for the tour and the museum. The "tour" at first was an interesting multi-media thing that took you into a cut-away brew kettle for a presentation on brewing, then into a cleverly faked elevator for a journey down to the deep source of the brewery's water. This is where I met Jiři Klang (his first name was pronounced, roughly, like "Yuri"), a very nice young fellow with the brewery who got stuck baby-sitting us -- not really bad duty, considering it apparently came with a bottomless budget for buying us Budweiser. He asked us what we thought of the multi-media; it was new, and hadn't been exposed to the tourists yet. Drop the elevator harder was my advice.
The museum was a real museum, with artifacts, papers, and displays of medieval brewing. There was also an explanation of why Budweis is where it is, which seemed to come down to the king decided it would be a good place for a castle. Good a reason as any, especially in those days.
Inevitably, it got into the Budweiser-Budweiser controversy, something Anheuser-Busch tours never talk about; beneath their notice, I guess. Until fairly recently, A-B's website said that Adolphus Busch "coined" the name Budweiser. Sure enough, the Budvar museum makes a strong point that A-B registered "Budweiser" as a fictive trademark, a made-up word. They don't buy that, to make a long story short. The museum ended up in a loud, visually stimulating multimedia room, pretty cool, and educational.
Touring, Tasting, and Grilling Dr. Tolar
Then we went out and started hiking around the place. Dr. Tolar showed us where major new buildings had been added in 1995. It made a statement, he said, that the government was interested in the brewery staying where it was. In the bad old communist days, the State had run Budvar as an export brewery to earn hard currency, and 75% of the output was exported. Now home and export production are about equal, but the beer is exported to more than twice as many countries (50) and the production has more than doubled (1.2 million hectoliters, or about a million barrels). It's still dwarfed by Pilsner Urquell, which has about 50% of the Czech market; Budvar is about 5.5%.
We walked past the brewery's water supply: huge pipes from artesian wells. The sound of the water roaring up from 300-plus meters down was plainly audible as we stood by the torso-thick clear pipe leading to the two large tanks that hold the daily supply. This, said Tolar, is what makes it impossible to brew Budvar – I'm sorry – Budweiser anywhere else; the water. One source, one brewery, means that "if we sell it in the United States, in Japan, or in Prague, it is all the same beer," he said. This was, I assume, a direct shot at Pilsner Urquell and its parent company, SAB/Miller, which has expanded brewing of PU into other facilities.
We stumbled onward, past a few more modern buildings (offices, mostly) and into a gorgeous multi-vessel decoction brewhouse. Budvar uses open lautering and runs the wort into a multi-neck grant (see the picture below). Tolar said this was for getting oxygen into the wort, "for the beer's golden color." They use whole flower hops, not extract or pellets, and they are 100% Czech-grown Saaz (or Zateç) hops.

We took the opportunity to sip samples of the wort out of the grant, which was clean and sweet…pretty much the way you'd expect. As you can see, the brewhouse was absolutely beautiful, immaculate, and tastefully decorated with some casually piled hops bales. It was a brewhouse to bring pride and satisfaction to an aware beer-drinker, a sense that here, beer was being made the right way.
The feeling didn't let up as we continued into the fermentation area and the lagering cellars. Fermentation takes place in cylindro-conicals, but they use them only for primary fermentation – 4 days at 5-9° C for the regular beers (10°, 12°, NA, and the – wait for it – Budweiser Dark), 15 days for the 16°P strong lager. They use a single strain of yeast for all the beers, and they re-pitch it only three times, then build it up from pure culture.
Maturation in the lagering cellars (which are long, whitewashed, and chilly) takes place in horizontal tanks, because of the pressure difference, the pressure of the stack of beer on the yeast. That, by the way, is pretty much the same reason Anheuser-Busch's Budweiser is matured in the chip tanks; the beechwood chips spread out the yeast so it isn't crushed – so I was told by an A-B brewmaster.
An unexpected treat in the cellars: they tapped a tank for us! Mama, unfiltered Budweiser! It was delish, the hops really came through. But we got in argument with Byrne ('we' being everyone else who knew squat about beer, 'Byrne' being that incredibly stubborn booger on the other side) about whether this was kellerbier. 'We' were of the opinion that kellerbier, literally "cellar beer" in German," meant any unfiltered lager, but Byrne tucked his chin down to his chest and said no, kellerbier is a particular type of unfiltered lager, not just any unfiltered lager. Astute readers will intuit that there was no way to settle this argument, as did most of 'us' after about a minute of Byrne saying "No, you're wrong!"
We settled it by drinking more. It wasn't as if we were going to drink them dry: the main lagering tanks hold an average of 220 hectoliters each, and there are 500 of them. The regular 12° stays in there between 80 to 100 days at about 2°C.
We finally started bugging Tolar about the Dark at this point. What about this great stuff, when did they start making it, why can't we get it in America, and most importantly, why weren't they handing out half-liters of it every ten minutes? They'd been making Budvar Tmavy since May of 2004, he said, a beer they had brought back from the 1950s era. "I was skeptical," he said. "It is a complicated brew, and I was afraid we'd have big losses on it. The people in marketing set a goal of 5,000 hectoliters, but we sold 10,000 in the first year! I was wrong, they were right." You kind of got the feeling that Tolar still thought he was going to be right. I hope he's wrong. And don't look for it over here any time soon. Europeans all think they know the American market: we want only golden beer, in green bottles. Must be why Guinness does so well…
In fact, when we got into the bottling hall, I asked Tolar about that. Why do you use green bottles, I asked, you know and I know that they don't protect the beer from light. "The desire of the consumer," he said. "Everyone knows brown glass is better, but…" And he smiled half-heartedly and shook his head. About how I feel about it. Damned marketing people, ruining our beer!
We also asked him about something Coleman had teased us with: draft Czechvar, which would solve the whole green glass thing in one shot. They are talking to Distinguished Brands, he said, and will be doing test-marketing soon (Coleman said this fall). "Here in Czechoslovakia," he said (and I wrote in my notebook "He said Czechoslovakia, ha ha!" We needed sleep, I tell you), the consumption is about 50% draft. Everyone says draft is better. But here every container of draft beer sells in less than three days. We would want a market in the United States to do the same."
He wants every account to go through every keg in three days or less? This, from the guy who lets marketing tell him what kind of glass to use in his bottles? Hey, Josef, buddy, believe me, a week is plenty! We want this beer on draft tomorrow, and what's more, we want the Dark, too!
Seriously, by this time we were all starting to mumble among ourselves about how we were going to handle the apparent fact that while DBI and Budvar had paid for our trip, the beer they were pitching to us really did seem to be hellishly good, and the best we'd had in a country of good lager beer. This stuff was excellent, and the Dark – excuse me, altogether now – the Budweiser Dark was fantastic.
Then they went and made it even harder on our journalistic ethics by giving us one of the nicer swag bags I've seen: a very cool Czech Hockey League/Budweiser baseball cap that I've been wearing everywhere, a CHL jersey, a Budweiser fleece vest that has me itching for cold weather, a sharp Budvar umbrella I will not let the kids touch, and a great book on the history of the brewery…and that's just the really good stuff. I won't lie to you: if their beer sucked, I'd tell you that right now and keep wearing the hat; after all, I still wear my Huebert Brewing hat, and that guy's beer was nasty. I like the hat. So you're just going to have to trust me. The swag was good, but they could have given us a pat on the head and a mint toothpick, and I'd still tell you: the beer's definitely excellent.

We took some pictures with Josef and Jiři and the rest of us reprobates, and then it was back onto the bus with Ivan and Eva, and back to the hotel. On the way back, Eva told us (in about three different ways) that the cobblestoned town square had one stone with a cross on it called The Wander Stone, and if you stepped on that stone, you would get lost and wander around. Men often go out, get a few on board, and then tell their wives they stepped on the stone and just got lost…she said. I wanted to dig it up and take it along home. We were stumbling, exhausted, still up after over 29 hours straight. Not world record stuff, by any means, but we were asleep on our feet.
I couldn't afford to lay down, because that would result in deep sleep, so I sat and read Robert Frezza's A Small Colonial War with both arms crossed on my head, so that when I fell asleep, they'd fall down and wake me up. It worked...seven times. Finally I got up, washed my face with cold water, and went and got Jack. He'd had a short nap, the weakling, and was a bit groggy at first, but we soon were downstairs and walking towards Maly Pivovar for dinner. Misapplying Anglo-Latin roots to that made me think it should mean something like "Awful Brewery," but it actually means something like "Little Brewery." I'm not completely sure I understood what Eva told us, but Budvar owns the hotel/restaurant, and I think it might be on the site of the original – or maybe AN original – brewery. We picked up Ron Givens and Jim Lundstrom along the way, and wound up taking a short diversion through the square to see the Black Tower -- so-called because it caught fire so often, the masonry turned black. We cut back along the creek, and went in to dinner.
We were the first ones there, but they recognized us as "the Americans" immediately and showed us to our long table. They had cold appetizers laid on already, and we tore in. One small stoneware pot held thinly sliced small onions, two delicious slabs of butter, and a number of off-white disks, about 1.5" across and perhaps 1/4" thick. At first glance, I thought they might be winter radishes, then they looked more starchy. Jack thought they might be some kind of pickled potato. I laid one up on a slice of the excellent dark bread and bit in: it tasted like thick, dry cup cheese, chewy and bit sticky. A decent and truly different cheese.
In the other stoneware vessel, a long thing about the size and shape of a loaf of bread, there were a number of chunks of sausage, split almost through the long way, with a slice of pickle and pickled carrot tucked inside, held together with – as Jack put it – "a cleverly – ouch! – concealed toothpick." The whole vessel was awash in vinegar, and the sausages packed a spicy, vinegar-enhanced smack.

We ordered half-liters of our new friend, Cerny Budvar, the dark Budweiser, and tore into the snacks. The waiter, a friendly older guy with a bald head and a quick, impish grin, brought us shots of Becherovka, a schnapps-like drink that was kind of like Jägermeister, only drinkable…very drinkable, and a transparent yellow. Kerry and Glaser showed up, and some of the DBI folks, and finally everyone was sitting at table and chatting away, laughing and hooting. More beer was consumed, and Ron successfully ordered a Budvar 10, the helles, which was very good.
More Becherovka came, and we tried to tease out what was in it. I found a strong note of stick cinnamon and, well, botanical, herbal stuff. Ron topped it out with some water to bring the nose out, and said "Cloves." I disagreed, and in one of my less memorable arguments, said that while I admitted that it was "clove-like," I didn't think it was clove. Ron just looked at me. "Clove-like?" he asked. "What's like a clove? That isn't a clove?" Kerry actually agreed with me to some extent, but Ron continued to find clove-like notes in everything we tasted, just to gig me.

Came time to order, and we saw stuff on the menu we just had to try. Kerry and Jack and I decided to order three plates and share them around. Jack was in the WC when it was time for him to order, so I ordered for him, the sausages in goulash sauce; I ordered the "medallions of wild in cranberry gravy" (wild what it didn't say), and Kerry ordered this monster thing that came in a pot like the pickled sausages had come in, a hunter's pot of duck, bacon (big, thick slab stuff, delicious), ham, "smoked meat," two kinds of dumplings, and long-cooked cabbage. We laughed and exclaimed over that one; the medallions of wild were tasty but tough, unidentifiable slices of mystery meat, Jack's sausage was thin and uninteresting, though the goulash sauce was spicy and good. The pot o' meat was just crazy, and we ate the hell out of it, taking plenty of opportunity to drink more beer.
I had a few things I wanted to do while in the Republic: one of them was to try absinthe – which I figured could wait – and another was to try slivovice on its home territory. I'd always been told slivovice was "plum brandy" — which sounded okay, I like plums — and that it was wicked strong. Well, look, my table whiskey is Baker's, I like to drink Booker's, I even drink Stagg: I can handle this stuff. "Really strong" doesn't scare me. So I waited till we'd finished up dinner and had settled into a bit more relaxed drinking, and ordered a round of slivovice for the writers...and Kiff hears me and orders a round for everybody.
What I hadn't been told was that slivovice was like plum brandy like marc was like Calvados, or grappa was like brandy: it's made from the damned leftovers! It came clear and I thought, oh, nice, plum eau de vie. No, more like eau de Goddard, you could fly to low orbit on this stuff! It did not taste like plums, it tasted like vodka infused with plum stones, and no one liked it, so I drank four, and Kif drank six.
Really, we did, while packing away the Bud Darks (I just like saying that: "Bud Dark"). You know, you get on these damn trips, you're fatigued to the bejayzus, you're eating a lot of meat (because they always feed you a ton of meat in central Europe), and you suddenly find that you have to drink a lot before you get stumbly. So we just kept drinking.

Then Jack's guy Honza showed up, a Czech beer enthusiast he'd been in contact with who was going to show us around in Prague on Sunday, and tried very hard to hook us up with a case of Pardubice Porter, to no avail, sadly. (More on that later, eh, Ivan?) Gawd, he was tall and sober, and tired, too. Ha! He thought he was tired. We'd gone right through tired and come out the other, wobbly side. He started talking schedule for Sunday, and what he had set up for us, and Kif wandered over with some absinthe. Forget the "hour of the green fairy," and the drip and the sugar cube: the Czechs have stripped it down to the very basics. Absinthe was uniformly served in a cylindrical shooter, looking like a shot of window cleaner, and was slammed, not sipped. At least, that's how we did it and saw other people do it. I can't really tell you what it was like, though, past a vague herbal character ("Clove-like."). It was not as bad as slivovice, while not as friendly as Becherovka.
Honza had ideas for us, and we wondered how we were going to get to where he wanted us to start. But then we remembered who we dealing with: Jeff Coleman. Coleman's attitude was hospitable. We'd essentially already done what he wanted us to do in getting us to the Republic: we'd been to the brewery and talked to the brewer, and drunk a lot of great fresh Budvar. "Hey, the bus is ours. If you need a ride, take the bus," he said. What a host.
We noticed that things were getting quiet, and the waiters were cleaning up. Dammit! Anyone still want to drink? Oh, yes, most of us. So Jiři and Coleman led us off to a couple of places that were either closed or sucky, and then we hit a disco. I hate this part of Europe: discos. Everything else they do might be worlds more sophisticated than us (it isn't, but they love it when you say it is), but Euro-discos are the silliest, wackiest excuses for nightclubs, with crappy music, goofy videos, and seriously strange clothing. Luckily, this one had a bar in the back, so we just pushed through and helped Jiři carry cold bottles of Bud to everyone. And again. And again. My God, we drank a lot.
Jack and I drank so much we forgot the rule that enables us to be friends: we talked about politics; specifically about the whole Social Security issue. We started yelling, then we started laughing, then we'd yell some more. Neither of us changed our minds, so we had some more Budweiser. And then we decided to leave the field of battle to the younger and more rested folks, and stumbled back to the hotel. Where I slept, heavily...and got up today, ready for Ceske Krumlov.
Second Day: Beauty, Beer, and the Lords of Ceske Krumlov
Ceske Krumlov was on the schedule for Day Two. What the hell is Ceske Krumlov? It is on the United Nations list of places that are wonders of mankind, and it firmly belongs there. We loved the place…but I'm getting ahead of myself. First we had to get there.
I got down for breakfast about 8:00. Things had happened out in the hall overnight, but 1)I'm not completely sure who was involved, and 2)what happens in the Republic, stays in the Republic. So let's just say I slept, I woke up, and I was mildly hung over. It evaporated quickly under the blessings of conversation with the writers and Sheryl, and a good hearty German-style breakfast: eggs, cheese, bacon, heavy bread, and fruit juices, lots and lots of fruit juices. Several of our party never went to bed, including Terry, who had lost his shirt. Literally, he was running around the hotel lobby grinning, in a tweed jacket, a pair of pants, and shoes.
Jack was right, by the way: there was always a LOT of hanging around doing nothing when we started out in the morning. Finally, Glaser and Jack and I walked down to the bus. We got on, sat down, and relaxed. Then Ivan came stalking back the aisle, murder on his face and a black garbage bag in one hand and a banana peel in the other. He shoved the peel in Glaser's face. "This! I find! Here! Use!" and shoved the peel in the bag and threw it at Glaser. He stalked back to the wheel, leaving us non-plussed and wondering if Communism had actually left town.
The rest of the group joined us eventually, and by 10:30 we were on the road to Ceske Krumlov. It was a short ride, and Eva used it to explain (over and over and over) that Ceske Krumlov was built by the lords of Ceske Krumlov, who were called the lords of Ceske Krumlov after they built Ceske Krumlov... We soon got our first view of the huge drum-tower fortification that was the anchor of the beautiful town castle (where, I suppose, the lords of Ceske Krumlov lived… after they'd built it).
Ivan parked the bus at the foot of the castle hill, and we started up. You may have already read about this on Jack's website, so I can't lie: I was wheezing, and had to stop once on the way up, fat tub of guts that I am. Jack had to stop too, but Gawd, he's got 20 years on me, so no shame for him. Oh my. Gotta get back on the Erg.

Anyway, the castle was very nice (from the outside; we just kind of walked through it), and the view of the town below was like a storybook illustration. The Vltava flows through town in a series of sinuous arcs, and we could see several taverns that fronted on the river and we wanted to go drink there! Come on, Sheryl, can we, can we, huh? Sheesh, what a bunch of boozehounds. We tramped on through the

castle, bought some souvenirs (very nice maps of the town that I've taken out twice since and just sighed at the beautiful memory), and congregated at a fountain in a courtyard. Eva loosened up and smiled, Sheryl was grinning manically, and we all just felt good. Score one for the UN, I guess. We were about at the foot of the big, ornate drum-tower now. We walked out through the main gate below it, and there were bears. Real bears, hanging out in the moat. They were big roly-poly fellas, eating fruit and wandering around, fun to watch, kinda old European.
Seeing the bears was the end of our time at the castle. From there we went traipsing down into the town, down a long cobbled street, past shops and shops and shops – garnets (the Republic's most valuable export, both industrial and gem-quality stones; the wimmins were looking at them with open lust), art, glass (the second-most valuable export), "souvenirs" (crap, every country's fifth-largest export), a surprising number of puppet shops (don't ask me, I've no idea), and plenty of taverns (beer actually is the Republic's third-largest export). Kerry and I ducked into a shop and bought water, in the half-assed 'talk broken German really loud and point a lot' method we'd developed, then hustled to catch up with the group.
They were waiting for us in the town square, across from the Torture Museum. Really. Those lords of Ceske Krumlov…were evidently real bastards. From there we toddled downhill to cross the Vltava on a picturesque bridge into a greener area of town, where we had lunch at the Gold Hotel. Look, the less said about this lunch, the better. It was pretty much the writers' least favorite period of the trip, an unfortunate (and rare) miscue that left us in white linen being served mediocre wine and odd cocktails…the less said the better.
No, wait. This is a perfect time to talk about Czech cuisine. Two words: Pork. Dumplings. The pork was excellent, and I really enjoyed it. A few of us complained about the ubiquity of the pork, but I grooved on it, particularly since we never seemed to be downwind of a pig farm. It was mostly pork meat as is, not a lot of sausages, which surprised me. Dumplings, on the other hand, were not my favorite thing. They came in a number of varieties: bread, potato, and bacon were the most frequent.
The bacon dumplings were more like what I expect when I hear the word "dumpling," a round, doughy thing that soaks up gravy and takes on the flavor of the sauce…and these had bacon in them. The bread dumplings were slices of heavy, doughy white bread about 2.5 inches across, which did okay at the gravy-soaking task, but were much heavier than the bacon dumplings. The potato dumplings sucked. They were more like slices of unsalted, white Play-Doh, incapable of soaking up gravy, heavy as a stone, gluey in consistency, and mercifully devoid of flavor. I grew to hate their frequent appearance, and I bitched openly and bitterly about the disgusting things.

Enough dumplings, enough sub-par drinks. We bolted back across the Vltava for a tavern we'd seen at the other end of the bridge, an Eggenberg house, the local beer. It was a cozy little place, with tight passages, tables tucked into nooks in the wall, and a big open-hearth tiled stove in the middle of the room. It was just chill and raw enough that the fire felt good as we jammed into a nook by the fire and ordered Eggenbergs all round. The beer was good, but no Budvar. No Pilsner Urquell, either. Service, as it often was in the Republic, was quite slow and a bit surly. Communist hangover.
I ducked across the street to an art store that sold the local supplies – Koh-I-Noor art pencils are made in the Republic, and I wanted to get some for my son, who draws constantly. Nice little shop, and I got a sharp tin-boxed chiaroscuro set of fifteen pencils, six different shades of charcoal inserts for an oversized mechanical pencil, and chalks for about $15. Score one for the Republic! Back to the bar for another quick Eggenberg, and then we threaded our way up through the alleys back to the square to meet everyone else.
I was guessing we'd head back to Ceske Budejovice, but no! Someone (Sheryl? I'd bet that way) came up with the idea of making up for the odd lunch by taking us for beers in a little tavern off the square. We weren't in a mood for more places, being a bit slow and surly ourselves at this point, so we hung and chatted over the fence with Terry and Kif for a bit while they finished their beers at a square-side tavern. Then we talked about defying Coleman and going into the Pilsner Urquell house across the square, but decided to be good and go find Sheryl and the rest of the crew. We invaded one place, which must have been disconcerting to the patrons: Kif makes me look petite and demure, and the two of us charged into this place, waving to the bartender and saying "Just looking for some friends!", turned all the corners they had, and exited just as abruptly.

The place we were looking for was Krčma ("KREECH-ma"), the next one up the alley, and it was wonderful, one of the best little bars I've ever been to in a long life of going to bars. It looked like a tavern out of a book (the book I'm thinking of is one of my favorites, The Drawing of the Dark, by Tim Powers, a historical fantasy about the beer that is at the heart of Western Civilization); low-ceilinged, dark, warm, an open fire with sizzling pieces of pork cooking on a grate, and friends seated at a wooden trestle table with mugs of cold beer.
There's a short story by George R.R. Martin called "The Hell-bound Train," a Faustian tale about a boy who makes a deal with the Devil: if he ever finds a moment when he is truly happy, he need but wind his watch backwards, and the moment would last forever. If Cathy and the kids had been there with me, I'd have grabbed that watch (hey, my kids really like pork, okay?). I honestly never, ever wanted to leave. We drank, we talked, we laughed, Glaser started talking Italian to some tourists in the corner (the little sucker had unimagined depths), and the bathrooms were clean.
Kerry eventually was the worm in Eden. "Here, look at this map," he said. "The Eggenberg brewery's just across the river." We'd seen taxis back in the square, and eventually he and Jack and Jim and Ron and Gregg and I walked back through the light rain and engaged their services to take us to Eggenberg. At high speed, on tiny roads. They may have been taking us the long way round to build up a fare, but we didn't care, it was exciting.

Up a steep hill over square cobbles, past a little stone guardhouse, and there was the brewery. We paid off the cabbies, and rushed inside. It looked like Germany, very beer-hallish, and we scoped the beerlist. Unfiltered Eggenberg 12° was only 13 krowns! Five of those babies! It was better than the tavern's Eggenberg had been, but it still fell short of Budvar. It was thinner, the hops were less refined, and it just didn't seem as lively. Sigh. We knew we had to get back, so we got the bartender to call us a cab. Then we didn't all fit (naturally, they were Passats, and five guys just don't fit), and the guy threw us out when we tried to lay Glaser across our laps in the back. Eventually Jack and I volunteered to stay while they went, with the deal that they would send the cab back for us. Turns out the cabbie understood what we wanted better than we'd given him credit for; he called a friend, who came and got us.

Things had, unfortunately, broken up at The Perfect Tavern. Shoulda stayed and got my watch out, dammit. It was raining harder now, too. The group took off, but I stayed behind to take Kerry's picture with an amusing pig-butchering sign for Krčma, and we lost sight of them. We hoofed it after them. I was sure they would have taken the shortcut through the town gate…but not sure enough to risk back-tracking, so we went up through the castle again, and I had to send Kerry on ahead while I wheezed. They waited, and seeing the bus as I came out of the backside of the castle was very reassuring. It was all downhill from there, but all rain, too. I was soaked and cold by the time I saw Ivan's pissed-off face. Screw him, I was on the bus. We drank more Budweiser on the way back, and I got a hot shower and patted myself on the back for packing my favorite bulky sweater.
Second Day: Last night in Ceske Budejovice
So there I was, finally swaddled in dry warmth, and ready to go out for dinner. We went to the Hotel Pavlac, on the other side of the square. It was good, if only because once again we got free-flowing Budvar Dark and... (wait for it....) pork! It was a nice enough place, high ceilings, long tables, there was just something about it I wasn't nuts about, although precisely what that was eludes me. Well, nothing major...how about another mug of dark!
When dinner was over, we had to decide what to do. Going back to the hotel for some sleep was an option, I guess, but no one suggested it. Coleman and Kif kept talking about some place called (of all things) Palm Beach, and we agreed to meet up there. We were hampered by not having any idea where it was, other than generally east.
We strolled down a covered gallery of shops, and chanced to meet a fellow who claimed to be involved in a film project with one of the fellows from Monty Python. Wow, really? No, really. Well, well, and you're in Budweis? We stood and bullshat with him for a bit, and mentioned that we were heading for Palm Beach. Ach, he said, a kiddy club with shitty drinks and worse music... and that, I think, is where we lost Jim. Jim went off with these guys to find Palm Beach (I don't know why), and Jack, Kerry, Ron and I wandered off to find better beer.
We were still hell-bent on trying every possible Czech beer we could find, a quest that led us to a completely embarrassing moment for Jack and I. Kerry spotted a Burger Bräu bar down a side street, a beer we hadn't had a chance at yet, and we went for it. It was a crowded little karaoke disco, with a layout that reminded me strongly of a Bachelor Officer's Quarters apartment from the Army...with dim blue lights, a glass-brick bar, and a thumping sound system full of Czech syllables.
There was, surprisingly, a banquette table open, and we crowded ourselves into it, fusty middle-aged men (sorry, Kerry, but if you hang with us, you look like us) in heavy coats who didn't give a damn about the music or dancing, just bring us beer! Jack and I pushed our way to the bar and I held up four fingers -- "Pivo, por favor!" Hey, it worked, it was ridiculously cheap, and we went our way rejoicing -- until a chunky blonde Czech chick grabbed the two of us and insisted we dance with her. Dear God!
I admit to doing a bad thing. Jack dodged her grasp and squeezed back into the banquette, saying something like "No, no, me no dance, pivo! No dance, pivo!" in his ludicrous pidgin...and I dragged his poor old arse out of the banquette back onto the floor, and then got between him and the seat. We all jumped up and down to 'YMCA' and some anti-American anthem. It was clearly unacceptable, but all Jim and Kerry did was to sit and drink the so-so beer. We finally broke loose, drank our beers, and bolted the place immediately. (It's worth noting that Jack remembers the incident...differently.)
Wander, wander, wander, in a night that was getting drizzly and a bit raw. We had an eye cocked for brewery signs outside of bars, because we were off the Budvar clock and looking for all the beers we could find. HA! A Staropramen pub! We whipped down the block into the welcoming warmth of the pub and found some Distinguished Brands folks just leaving. We grabbed their table, which they were sharing with a young Czech couple, a really tall guy and very tiny girl.
They were very nice, and we chatted with them as we waited for our beers to come. Staropramen actually makes what amounts to a wide variety of beer in the Republic: their pilsner (of course), a nitro-pour amber beer they call Granat, and a bottom-fermented stout on nitro (A Baltic stout?) called Kelt. We tried them all, and the stout was pretty good, Granat was kind of interesting, in a pukey way, and the pils was completely acceptable.
Things were going nicely, beer was good, the joint was jumping, but all of a sudden there was blood on the table. What the hell? I'm not completely clear on exactly what happened (go figure!), but apparently the Czech fellow had broken his glass while holding it, and a chunk flew and caught his cheek. Weirdness, and we took it as a sign and bolted.
That about did it for the night for us. It was back to the hotel, and prepare for the trip to Prague the next day. I tried to stay up and type some notes into my laptop, but it turned out that the power converter I'd bought for it didn't take into account the recessed Czech power outlets. I spent 45 minutes sitting on the bathroom floor with the converter jammed into the shaver outlet and the laptop balanced on the toilet...until I came to my senses and realized how ridiculous I looked. Off to bed.
Third Day: a Glimpse of Prague, then off to PAR-DU-BICE!!!
Up the next morning and onto the bus, finally off to Prague. I was excited. Prague is the largest medieval city untouched by the damage of World War II, home to the famous Charles Bridge and the world's oldest brewpub, U Fleku. I kept waiting to see Prague on the horizon, but...when it came, it was more like Industrial Town: power substations, railyards, factories. Then we picked up the Vltava/Moldau, and things got more scenic.
Ah, the Moldau! I was humming Smetana's melodic masterpiece to myself, nose pressed against the glass, watching the wide river roll on. (Not sure if I explained this: the Moldau is the Anglicized name for the Republic's best-known river, the Vltava.) The romance, the history, it was a great place to be.
"The Vltava is to your right, okay?" Eva was nattering away. "It is the river of our country, big history river, which runs under famous Charles Bridge. The boats you see are sightseeing boats, for taking tourists along to see the sights of Prague. The river here is very shallow, yes? It is less than a meter, you would say two feet."
Two feet? Jeez, two feet? What the hell kinda river is that? I suppose I sound like a boob complaining about that, but this was a 'river' I'd dreamed about seeing almost all my life -- Smetana's dramatic "Ma Vlast" had been a favorite classic piece of mine from an early age -- and here it's not even as big as the Susquehanna!
Oh, well. I adjusted. We saw some sights, the Castle, some neat architecture, the Charles Bridge (this is all from the bus at about 20 mph), all on the way to our hotel, the Hotel Grand Bohemia, one of the nicer hotels I've stayed in. When we got there, Ivan started hauling our luggage out (work, Ivan, work!), and we were given five minutes to walk around before getting back on the bus to go to lunch...which was only three blocks away, but we are such fragile things...

I walked around the corner and saw the massive black edifice of the Powder Tower, the town's old magazine, solid evidence of Prague's Renaissance history of wars and wealth. Kerry saw how I was taken by it, and offered to take a picture of me in front of it. I used the Powder Tower as a landmark when I was walking in Prague later in the week.
We mounted up and rode to lunch at U Medvidku, another Budvar tied house that managed to feel urban and rustic at the same time. The Bud Dark flowed, I even relented and had some Budvar 12 (still frickin' excellent), and we dined on such delights as "Belly Pork of the Prague Boozer", "Bear Lard with Greaves", "Royal Sword", "Quarter-Meter Cigarette Sausage" (which was as long as advertised and damned tasty), "It Just Need Not Be Sunday," and what Jack got, "Two Devil's Tails." We learned that the Czechs, like the Chinese, often give fanciful names to their meals (I had three deliciously tender medallions of pork tenderloin that were referred to as "Moravian Sparrows" one night), and choked everything down quite handily.
We were directly confronted with evidence of cheap Czech prices as we left. A group of British guys on a friend's bachelor party...in Prague. Now that's going out for a party. Dig the wigs, and catch Ron Givens on the left; he was thinking about grabbing a wig and joining the party, I betcha.
Back on the bus! We were bound for Pardubice for our hockey game. The plan had originally been for us to see a semi-final game of the Czech hockey league championships, and when the plans were laid, the Prague team was evidently the odds-on favorite. Didn't the damned upstart Pardubice team knock them out, forcing a game two hours away in Pardubice, a town we immediately hated as Cow-town, Rubeville, the source of another four hours in the bus with Ivan when we could have been doing serious research in Prague on just what an absinthe drunk really felt like. Lost opportunities.
The lostest opportunity of them all was that damned Ivan's refusal to take us to the Pardubice brewery to pick up a free case of Porter -- 8% Baltic-type PORTER!! -- that Honza had arranged for us. "No, no," he said, shaking his head and making brush-away motions with his hands. "No go." He claimed ignorance of where the brewery was despite Honza's clear directions, and changed the brush-away motions to Pilate-like hand-washing. Enough then, you ironclad bastard, you win. No porter. Crap. We exited the bus and slogged across parking lots and open grass-space to the stadium. It was gray and rainy, but the fans were obviously excited, and, eventually, it was catching.
Into the stadium, which was fricking cold, and onto folding chairs, tucked into a walkway. Budvar was the big beer sponsor in Pardubice (I guess they might have been a major sponsor of Czech hockey), and obviously they'd pulled some strings to get us seated in this unexpected venue. It wasn't comfortable, and I never did get a beer -- the ONLY dry spell on the whole trip, though, and hats off to our beloved hosts, Distinguished Brands! -- but the position of the seats was good and gave a great view of the game...for what it was worth.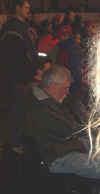 Look, I don't know a lot about hockey. But even I could tell that the first period was disappointing. We were figuring on Olympic-caliber hockey, and got crap: missed passes, hardly any shots on goal, sloppy puck-handling. What the hell! Even Jack ("Hockey Is White Guys On Skates") and I were bitching (Jack later showed his disgust by falling asleep during the third period when the game finally got good), other folks were annoyed (with the game, not Jack and I), but we endured.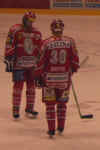 There were benefits. Ice chicks: cheerleaders, advertising placard-holders, and ice-sweepers following the zambonis, each set wearing less and less confining clothing, until the ice-sweepers were down to skates, halters, and ass-band shorts. And it was kind of funny the way the players were festooned with ads, slapped on their asses, backs, knees, helmets, till they looked like NASCAR on skates. They also brought Volkswagens out on the ice: the new models of the Jetta and the Passat, which was kind of fun (more bare skin to go with them, too), but made me miss my new car.

The second period did get better, the crowd got into it with loud synchronized roars of PAR-DU-BICE!!! -- and the third period got downright exciting. A couple of times we were on our feet shouting as the home team swept down the ice and peppered the opposing goalie. Eventually Pardubice sealed a win (and would win the championship itself the next night), and the stadium went nuts: roaring fans, streamers flying onto the ice, crashing loud heavy metal music, flashes from cameras, and the team came back out on the ice to thank the fans with an impromptu dance.
We pushed our way out, onto the bus, Ivan grinning evilly, and decided to get dinner. Hey, why not, it was only 10:00!

Really? Wow. Later than I thought. We found a Staropramen pub and shoved into two tables. I wound up with Ivan, Jiři, and Kerry, among others. I ordered pork (what the hell else was I going to do?), Kerry got some kind of weird boiled bacon salad, and Ivan got something with a lot of eggs and a near beer. "No drink for me, I drive," he said, and looked at us with amused disdain. Well, we showed him, and drank his share and more. (The picture is Ron, Kif, Ivan, and Jiři.)
We got back on the bus -- again -- and shortly it would only be me and Jiři and Ivan still awake, sipping cans of Budvar (Jiři and I, of course, no drink for Ivan, he drive), and talking about the fall of Communism on the way back to Prague...more on that next time.
Third Day: the Fall of Communism; I Foul the Air
I quizzed Jiři on how the Czechs had dealt with Communism, and how they were dealing with being out from under it, 15 years down the line. He was good company, and willing to talk about it as we rumbled along through the dark countryside, slowing down for the occasional town. As a young man (he was under 30), he really only remembered Communism as a child, as a time when things were much quieter and poorer. "Much less advertising," he said, in what was surely an understatement: the Republic was, as we'd seen at the hockey game, absolutely ad-happy, with screaming ads everywhere (including one for a disc jockey, happily named "Doctor P.P.").
Now things were different, but mostly on the surface. Czechs were getting into the whole unbridled capitalism thing, but there was still a communism hangover of quiet sullen slowness. Most people did what they had to, and no more, and that without joy in their work (I questioned this the next day when I haggled with a jewelry store manager over the price of garnet earrings for Cathy...). It's hard to throw off forty-odd years of soulless, suspicious oppression and get happy, I guess.
And the past could still rear up and slap the Czechs in the back of the head. As we slowed to negotiate the circle in the middle of yet another small town, a suburb of Pardubice, Jiři paused in what he was saying, and waved out the window. "This is Semnit," he said. "Do you know of Semtex, yes? This is where it is made." To most of us, beer-lovers, the most famous export of the Republic is its beer, but to judge from the weird popularity of its name, the plastic explosive Semtex is the Republic's best-known export. "It is...difficult," Jiři said, with an embarrassed but determined smile, "to know how to feel about this. It is explosive for terrorists, yes? But it is invented here, and it is the best. To be proud...?" and he trailed off into an exaggerated shrug. It doesn't help that while the company that developed Semtex -- the Czechoslovak Joint-Stock Factory for Explosive Materials -- was started in 1920 by the new Czech government as a means to provide for a strong defense industry for the newly-founded country, the explosive itself was invented in 1966 under the Communists, at the behest of Ho Chi Minh. (The story is fascinating, actually.)
As we finally rolled into Prague about 1:00 AM, people woke up, more cans of Budvar popped open, and we started making plans for the rest of the evening. Hey, the Prague bars don't close till 4, and we didn't have anything till 10 the next morning. I got out my notes and found that there was supposed to be a brewpub just about three blocks on the far side of the Powder Tower. Bonus! We agreed to meet in the Grand Bohemia's bar as soon as luggage and keys were sorted out. I dumped off my stuff in what was a VERY nice room, with a good view of the street and the buildings in the neighborhood (it was dark, of course; I saw the view the next day, and on the last morning...a glorious sunny morning which was the only truly good weather the whole trip...), and headed downstairs.
Well, this is where I got the absolutely outrageous reaming on a beer. They actually wanted the Czech equivalent of three bucks for a draft Pilsner Urquell! Unbelieveable! I drained it and had another. Like I said, whenever I'm in eastern/central Europe (okay, what I really mean by that is "when I'm on press junkets in Germany and the Czech Republic"; I don't do this a lot), there's this intake of meat and fat and dumplings -- whatever the hell is in those things -- that makes drinking less drunk-making. I'd been drinking steadily on the bus ride back (I think I had four half-liter cans of Budvar) after a couple mugs at the restaurant, I got a few more on board here, and off we marched into the night.
Because it was marching time. The rest of the crew showed up: Kerry, Gregg, Ron, Jim Lundstrom, and Jack. We embarked on the Prague night streets, armed with a map page I tore out of my Frommer's. And somewhere on the far side of the Powder Tower, we were accosted...you know, I'm going to have to humiliate myself enough here in a bit, I'm going to let Jack humiliate himself in his own words. Check out his account of this, about 3/4 of the way down the page, in a section entitled "Day Three, Part Two: Worst. Prostitute. Proposition. Ever." That should about cover it.
After that wonderful moment, we finally gave up on finding the brewpub. (We found out later that it was closed for renovations.) We didn't give up on finding more beer, though, and hit upon, of all things, an wannabe Australian place called Tlusta Koala (The Thirsty Koala). The place was kind of L-shaped, wide in the front with the bar to the right, tables to the left, and a long room going back from there. We camped by a table in the front on the lower level; there was another table on an elevated sort of step about a foot higher than us, where four women in their late 30s were sitting, and speaking English in a variety of accents. We ordered up -- another Staropramen pub, and I think I got the Kelt again -- and started blabbing away.
And what came next, well, there's no way to sugar-coat it. All the beer and pork and dumplings caught up with me, and I let go a fart that smelled like a mildewed sheep had caught on fire in the room. I intended to blithely go on talking and drinking as if nothing had happened -- I was with men, right? -- when this lanky jean-clad woman at the table above leaned down and hollered, "Who the bloody hell did that?!" I fessed up, grinning, but she wasn't amused. Jeez, if you didn't want to know, why'd you ask? Funny thing was, I have no idea what I did say to her anymore, but within a minute I was showing her pictures of my kids. They were more Brit-types (Scots, Canadian, English, I think one was American) who'd either met each other in college...or were related...the beers were finally starting to catch up with me, and it's real hazy at this point. I do remember Kerry getting in a seriously snarly fight with one of them, probably over his usual assertion that Europe is a zoo, and the U.S. is the zookeeper. Might cause problems in the wrong crowd.
Anyway, we managed to leave without getting kicked out, a positive note, and we fumbled our way back to the hotel -- the bar was closed, damn! -- to fall asleep till the next day.
No, I'm not going to write about the Germany trip till I get this one finished. Expect me to pick up the pace on this one!