The Flying Pennsylvania Dutchman
Tom Rupp has landed
I would have put this up sooner, but I misplaced my notebook. Sorry...oh, and it gets worse.
As I said elsewhere, there's a new brewpub going up in Reamstown, Penn., and the buzz is that it's long-absent brewer Tom Rupp, who brewed at Neversink and Stoudt's. After dangling that bait in the water, I got a bite from Tom's wife, Amy, who e-mailed me. I finally got in touch with Tom last week, and quickly got permission to stop by, me being one of the few writers who ever had anything good to say about this hop-averse kinda lager-loving guy. I went up on January 30.
Reamstown is a tiny town in northern Lancaster County, just a few miles south of Stoudt's. I used to date a girl who lived there, but never had any other reason to go there before or since. That all changed the minute I walked in the door and saw the inside of what Tom's calling Union Barrel Works. I'd show you a picture, but I just managed to accidentally erase every single shot I took. New camera, stupid Lew, apologies to Tom. Told you it got worse.
Well, let's use a thousand words instead. The building dates from 1911, originally a hardware store, and it's a solid brick building, three stories high. The first floor is the only one opening for business for now, and it's a beauty. Original maple floors, original tin ceilings (more on that shortly), and a classic bar and backbar (the bar and the top half of the backbar are out of the old Showboat Hotel in Reading, and they're beauties).
There are tanks in the front window, then moving back through the building is the main barroom (with the bar on the left and a neat old hydraulic freight elevator on the right), followed by the glass-walled brewhouse (and yes, it's the old Pretzel City brewhouse that Tom's owned since a year after PCBC closed). Behind that is the main dining room on the left (plenty of room, too, because the local zoning seriously restricted the occupancy rate...) and the kitchen on the right, where Tom's son David is running things.
A quick word about that: it's not nepotism. David is a graduate of the Culinary Institute in Pittsburgh and worked in the kitchen at Penn Brewing. He's also been developing recipes for PennAg Industries, including a trout chowder that was a big hit at the recent PA Farm Show. Expect good things when Union Barrel Works hooks up with local aquaculture outfits like Limestone Springs Trout Hatchery.
The regular menu -- which is still being finalized -- includes hand-cut fries and potato chips, and sweet potato fries for out front, and a nicer menu for dining: osso bucco, crab cheesecakes, nice stuff. "We only have a small freezer," David said. "I'm a scratch cook. I'm cutting my own meat, too."
Back to Union Barrel Works -- and just where did that name come from? As Tom put it, in his gravelly voice, "We just brainstormed a list of names. We liked Barrel House, and worked with that. It's just a name." As I've said before, I'm just glad it isn't XXXX Brewing Company; I do get tired of that.
How about them beers? "Lagers," Tom said, putting an end to the suspense. "Basically what I made at Neversink, without any restrictions. The Kölsch, a Lager at about 12.5°P, a Maibock with honey we're going to try to name "Mindblock," and a Doublebock. The Double's at about 21°P.
"Those are done and in the tanks, aging. Have to work on the ales now. A Pale Ale (and Tom almost sneered here, a sop to hopheads), the Honey Nut Oatmeal Stout, and I'm going to resurrect the Adamstown Amber recipe." That one was an old favorite in the 750 ml green champagne-type bottles from Stoudt's; I remember buying a case of it at Kunda's back in 1992...a bright sunny day and I couldn't wait to get home and open it.
That's all there's going to be, too; no liquor license at Union Barrel Works. "Just the beer and Pennsylvania wines," said Tom.
All the beers coming from kegs, not serving tanks. That means more work for Tom, but more consistency in the beer, too. It also means that there will be outside sales. "Canal Street [Pub in Reading] is already signed up for four taps," Tom said.
All the beers will sell for the same price; the high-alcohol beers will come in smaller glasses. Count on a fair price, too: Tom knows this market well. You'll be able to taste your beer, finally: UBW is going non-smoking, ahead of the state-wide ban everyone expects to come through sooner or later.
Opening? Well, the holdup right now is local inspectors, who insist that there be a separate effluent tank out under the sidewalk with a separate 30-inch manhole so they can test any time they want. Tom offered multiple alternatives, but none suited the officials, so the sidewalk needs to be ripped up. I understand his PLCB and ATTTB approvals have come through, so we're just waiting on that construction. With luck: end of February.
Now, about that ceiling... Bar lovers from this area are sometimes familiar with an absolutely seminal book called The Bars of Reading and Berks, now long out of print and finally largely out of date, but still a wonderful read; I count it as one of my greatest influences, and only wish I could write this well, this concisely.
The authors of the book were Suds Kroge and Dregs Donnigan, pseudonyms of two area high school teachers. I've met Suds -- Dave Wardrop, a graphics teacher -- and he was good enough to give me my copy and sign it. I treasure it, and keep it handy; I'm looking at it right now (really, I'm a full-fledged touch typist).
Well, Suds still hangs with the beer crowd, and he dropped by UBW to see Tom, and saw that tin ceiling. "Let me paint it!" he asked Tom. Well, sure, Tom says. Nice to know other people bite off more than they can chew: After finishing half the ceiling, Suds begged for mercy, and Tom got a commercial painter to do the rest. Looks great, on both sides.
I'm looking forward to this opening, and to my first glass of Tom's beers; the first of many, I'm sure.
Lost Abbey: Found!
Tomme Arthur brings his beers to Monk's again; Tom Peters puts on a great dinner -- again.
Tomme Arthur, the guitar hero of brewing, is known throughout geekdom for his imaginative and delicious beers from Pizza Port -- the GABF Small Brewpub of the Year, three years in a row. As I found out at this past GABF, Tomme's teamed up with Vince and Gina Marsaglia (the owners of Pizza Port) to open Port Brewing (in the old Stone brewery). The Belgian-inspired line of beers they are now making -- which we enjoyed at Tom Peters' legendary GABF party last fall -- is called Lost Abbey. And that's what he brought to Monk's Cafe last Tuesday.
The first beer we got was a bottle-conditioned Avant Garde -- "loosely" in the biere de garde style, said Monsieur Arthur, brewed with a lager yeast to 7% ABV, right on the edge of sweet, but still dry and woody. Then we got a barrel-aged version, En Garde: it was quite bretty, and very drinkable. The two beers made an interesting pair of pairings with the goat cheese, tomato, and Bermuda onion tart (see to the right), the sweeter Avant Garde matching more with the crust and the onions, the En Garde homing in on the goat cheese.
I savored the savory tart and the pleasant conversation. I was sitting at the big front table in the window with fellow writer Don Russell, Nodding Head owner Curt Decker, and his brewer Gordon Grubb, and an old friend, Larry Blinebury, who is not only a regular at these Monk's dinners, but a regular at WhiskyFest as well. Gordon and Curt were so damned funny I missed taking notes; Curt was absolutely expansive as he recalled afternoons spent over cocktails and crawfish etoufee at Cafe Nola. (There are pictures of Gordon, and Tomme and Vince, over at my blog, if you want to get the full flavor...)
Because that was the next course: full of crawfish tails and a gently spicy gravy over sticky rice. Delishious. It was accompanied by Tomme's Red Barn, a saisonish little number spiced with grains of Paradise (praise to Curt for calling that correctly) and black pepper. But Tomme told me that he believes most of the spiciness is actually coming from the yeast he used.
There was a bit of an interlude between courses here, and folks wandered about a bit...that pleasant portion of a Monk's beer dinner where you feel free to get up and stretch, bother the guest, bother the other diners, get bothered by the other diners, bother Fergie... Pleasant.
Next up was a favorite thing of mine: take a fairly ordinary idea -- a chicken roulade -- and make it special. Instead of the standard prosciutto and gruyere, chef Adam Glickman filled the breast with Ardennes ham and Pere Joseph cheese, along with some wonderfully silky spinach. We got another great Lost Abbey duo with it -- Lost & Found, a dubbelish, brown and rich ale, with its barrel-aged alter ego, Amazing Grace: balanced off with the bite of wood and bug.
A surprise dish followed: Duck & Pheasant Chili, with dried cherries, navy beans, and poblano peppers. I'm afraid I Maxwell Housed this stuff, practically licking the plate clean: excellent chow, though more like a light stew than a chili, to this ignorant boy's taste. The Veritas paired up with it reminded me of a darker (in multiple senses of the word), dryer Selin's Grove Kriek. Great match.
Finally, it was dessert time, and it was, appropriately, divine. A pod of chocolate cake dusted with sugar, with a column of chocolate-topped coffee mousse that was one of the best-tasting sweets I've ever put in my mouth, I swear before God. The beer to go with it was no less phenomenal: Angel's Share, which Tomme described as blended from one-quarter of his Cuvee de Tomme, and three quarters of three different barrel-aged cherry beers. It was sharp but rich, like a true old ale, mixing sweet and bitter, though not really sour: more tart. Truly special, as Curt said.
I was a good boy. I believe the Red Barn was the only beer I finished, and I left something on my plate with most courses (though it was tough with that mousse). So after I'd said my good-byes, I walked back to the Passat and checked my BAC level (with a personal breath tester: think about getting one, they're also sold as the Alcohawk). I was plenty safe at 0.03, so I decided to make one more stop on the way home.
I hadn't been to Johnny Brenda's in over a year. Shameful, that's what it is. So I stopped, got a cask Yards ESA and the cheapest thing on the menu -- a side of mixed olives for $1.50 -- just because I wanted something to nosh on while I drank. Good idea: $1.50 for about 30 really good olives was a deal. But the Yards...was just okay. It wasn't lively, wasn't springing out of the glass. Gonna have to look into this. The last Philly Pale I'd had a month before had been as wonderful as ever, but this needs looking into. I'll get back to you.
Meanwhile, back out into the bitter 13° cold, and home, where I blew again: 0.05 BAC. Safe, legal, but good to be home.
One Guy Brewing
It's the name, and a description
It's time to take the wraps off the mystery brewery in Shorts. First, the name is (probably) One Guy Brewing Company. Second, it's at 328 W. Front St. in Berwick, PA. Third, opening day is still some months off. And finally, the "One Guy" is former Lion, Dixie, and Franconia brewer, Guy Hagner.
Guy's a friend of mine. I've known him for a number of years, since before Franconia. I was sad to see Franconia go under (maybe not as sad as the investors), but I was really sad to see a talented brewer not return to brewing. Guy tried his hand at a number of things (and became an excellent home pizza-maker), but nothing really worked out. Now he's finally back at brewing...or will be, soon.
Like I said, Guy's a friend. So earlier today, Thomas and I drove up to Berwick with gloves and goggles and a brand-new DeWalt reciprocating saw to help Guy re-hab the old Maier's bakery he's turning (part of) into One Guy Brewing. Thomas swept and bagged trash, and scraped paint. Guy and I tackled the steam and water pipes that festooned the walls. After successfully avoiding getting whacked on the head by the massive steam pipes (steel takes a lot of sawing), we took a break and had some pizza (store-bought, unfortunately, but adequate).
Afterwards, we talked about the brewery. As I teased in the News write-up, Guy's plan is for a small pub (30 seats) with a brewpub license (own-brewed beer and PA wines only, no liquor or guest beers). Food will be minimal at first; hot dogs and snack foods, just enough to satisfy PLCB regs. The beer will be brewed on a 2 bbl. system (that's not a typo: two barrel system) and kegged in 5 gallon kegs.
Guy's figuring on selling most of the beer out of his own place: "That's where the margin is," he said, and he's so right. Why shouldn't the brewer get the lion's share of the money you pay for his beer? He's got a sweet German-made set-up that will counter-pressure fill growlers, 5-liter mini-kegs, and 22 oz. bottles, and that's where the rest of the beer will be sold. He may sell a couple kegs to outside accounts (which I think is going to be essential to get his name out), but production numbers are going to be way low to do too much of that: probably under 300 bbls. a year.
Think of this place as a cross between Coopers Cave Ale Co. and Selin's Grove Brewing. It's all about selling on premise to make the most money on the small amounts of beer you make. Guy's found a very low overhead situation (hell, he's got people lining up to help him for free!) that will allow him to get back into brewing with very little risk. "If it doesn't work out the way I'd hoped," he said, "I can walk away without having lost too much."
As we talked, Guy kept saying, "What do you think of that?" He's not worried about the beer, of course, he's just wondering if he's got a plan and a scenario that can work. Mostly what I thought was "Berwick? Berwick?" No slant on the fine people of this town, but one: there are no good beer oases in town and they are not clamoring for craft beers, and two: Berwick's not real convenient to Interstate 80, it's well off the beaten path, in fact.
But you know...it's actually a nice town. The area is beautiful, tucked into a very hilly valley of the West Branch of the Susquehanna, and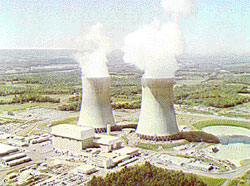 while the view upriver is marred somewhat by the Berwick nuke plant, the surrounding hills make for some breath-taking views from the local roads. Berwick is a proud town, a perennial state football champion (recently picked as the national high school champion by USA Today), and, well, that might just be enough to put "Berwick's Beer" over the top. It's a tight-knit community, and if Guy can crack that (and he already is...he's just that kind of guy. Er, Guy. Um...fella), he may have a winner.
And as Guy said, "I've still got all the contacts from our Franconia mailing list. I'll send word out to all the investors: come on in, first beer's on me, and...bring your rotten tomatoes." Maybe we can all be friends again.
I wish him luck. And we'll probably be back up for another work day.
A Pleasant Sort of Weekend
Begin with Bourbon
I'd been working hard the past few weeks, and it was going to get crazy when a cluster of events cropped up. So Cathy and I decided to take a break, and took the kids to central PA. While we were there, I found two new-to-me bars -- one good, the other excellent -- had a great time at the Bullfrog, and checked out the planned brewpub in Millheim. Busy weekend!
The story actually started on Thursday, May 18, when I did a bourbon tasting in Somers Point, NJ, for a group of beer aficionados who wanted to learn more about bourbon, including fellow beer guys Gary Monterosso and Mark Haynie. Mark set up the tasting, which was in the Somers Point Firehall, and I put on my new seersucker suit and went on down the shore.
We had 21 people, some good bourbon-tasting food (chili, ribs, pulled pork, mac & cheese, cornbread, and vanilla ice cream), and 12 good whiskeys: Jim Beam White Label, Knob Creek, Heaven Hill 10 Year Old, Old Whiskey River, Wild Turkey 101, Four Roses Single Barrel, Maker's Mark, Elmer T. Lee, Hancock's Reserve, Van Winkle 15, and two for contrast: Pikesville Rye and Jack Daniel's Single Barrel. Things went very well, and we'll probably be doing another in the fall, and maybe an Irish whiskey tasting sometime soon.
How does that start a weekend in central PA? Well, it actually started on Monday, when I went to Weight Watchers and clocked in a total of 50 pounds of weight lost since January. I'm not going to talk more about that, it's not about drinks, but it did mean I needed some new clothes. So we decided to take a trip to Woolrich, PA, and stock up. I love Woolrich clothing, and I love that area.
So we took the money I made on the bourbon tasting (Ah ha!) and went to Woolrich Saturday morning. I gave the kids $60 each and told them to go buy clothes (they bought hats and jackets...so like their old man), and I ravaged the casual clothing area in back. Things are not like they used to be at Woolrich; the back of the store used to be factory seconds, not just clearance stuff, and you could get some outrageous bargains on shirts with very small defects. The clearance stuff's still a pretty good deal, though, and I scarfed it up.
Bear Scat and Brewery Trails
After burning through my Christmas money and my latest Ale Street check, we had a picnic lunch in the park next door. Then it was time for a hike. We drove down to Bald Eagle State Park, parked the Passat, and hit the trail. Although the trail could have been a bit better marked, the map I had printed off the website was a good one and we looped up to a great view of the valley. It was a positively beautiful day, although it dropped just a few sprinkles of rain now and then. We saw some interesting stuff on the trail, like fresh bear scat and a grass snake that Nora stepped on (and then freaked right out about; can't blame her!). We hiked for about an hour, then got back to the car.
Time to go to work. We headed south on Rt. 445, over the ridges on some seriously wild and windy roads -- three big switchbacks that I just loved! -- and rolled down into Millheim. Millheim's a very cool little place that I fully intend to get back to; a lot of restored homes, a neat-looking old hotel bar, and -- the reason I was there -- the Equinox Cafe.
As I related elsewhere, I met Tim Bowser at Selin's Grove last fall. He told me about a plan to add a brewpub to the Equinox, his coffeeshop/music venue in Millheim. It sounds like a fabulous idea, and I wanted to meet him and check it out. But we just missed each other, and I had to make do with looking the place over from the outside (the cafe closed in January to be re-born). If this gets off the ground, it's going to be worth the trip: fresh beer, food as organic as possible, fresh coffee, live music. Oh, yeah.
Staying with Bob Hope
Back to Williamsport! We were getting a bit tired, hungry, and thirsty by now, and our rooms at the Genetti Hotel were sounding real good...especially since they were a block from the Bullfrog. It was very crowded in the hotel lot (there was a wedding reception, a nursing school reunion, and pre-prom dining going on), so I parked in the check-in area and went in to get keys before parking. I confirmed that I had two adjacent rooms, as reserved, took the keys out to the car, gave the keys to Cathy, and she and the kids took in most of the luggage, while I went to park.
When I got back to the rooms, there was hell to pay. The rooms were not adjacent, they were four doors apart. Cathy was not happy. Okay, I said, we'll go fix this. So I went down, and politely let the guy at the front desk know that this was not going to work. About a minute into it, a gentleman in a very sharp suit stepped up and said, "Let's fix this, sir. Why don't we give you the Bob Hope Suite? It has two bedrooms and a fold-out queen-size couch in the living room, would that suit?" Well, let's have a look!
In very short order, I was a hero. Many thanks to the general manager, who said he "just wanted you to have a good memory of the Genetti." Well, we do, and it only got better. By the time we got settled in (Thomas very happy in the media-center fold-out, Nora bubbly with her own room, and Cathy and I relaxed in our big room with the big picture of Bob Hope on the wall), we were whipped. We called the in-house restaurant, Legends, and made reservations for four.
Dinner was okay, the real pleasure was the beer. No, really: Legends turned out to have four Tröegs taps! Hot damn, and the waitress didn't even know they were there. I strolled over for a look after she gave us menus. I had me a real nice glass of Sunshine Pils. Yes sir.
God Bless Curt Decker
We got the kids settled in and then went out on the town. We'd already decided to save the Bullfrog for Sunday, when they have a regular jazz brunch. I was running down a tip from Curt Decker, celebrated Philadelphia parking magnate and owner of Nodding Head brewpub in Philly. Turns out Curt grew up in Williamsport, and he'd mentioned to me a few months before that there was a really nice little place in town, Franco's Lounge. I checked the map, and it was only two blocks away. We walked out into the beautiful evening.
Right here, right now, I want to say: thank you, Curt Decker. Franco's was excellent, bustling with happy people, rich with delightful aromas from the beautiful plates of Italian food going by (Franco's sells their red sauce by the jar, and uses locally grown produce and meats as much as possible: bravo), and yes, some very good beer. I started with a glass of cask Tröegs Hopback Amber -- yeah, cask -- and Cathy had a Paulaner hefe. Then I asked the bartender if he knew Curt. He said he'd just moved here recently, but he got the bar manager, Fred. Fred knew Curt, oh, yeah. Then we really got rolling, and Fred poured me a glass of Tröegs Naked Elf, the cherry-less version of Mad Elf I hadn't even seen anywhere yet. (Nice beer, by the way; sweet and spicy and understated.) Tröegs, Tröegs, Tröegs: do the Trogner brothers own this town?
Nice as Franco's was (and it was, I'm already plotting a way to get back there), Cathy was exhausted. So we walked back to the Genetti, where she went up to bed, and I grabbed a seat at the bar. Research. There were 18 taps: the four Tröegs taps, two Victory, an Appalachian, Murphy's stout, SNPA, Stella (unlike other geeks, I don't turn up my nose at draft Stella: a decent pils is a decent pils), and some of the usual suspects, I had a nice quiet jar of Murphy's, took my notes, and went to bed.
Sunday
Sunday morning we didn't do much. I went out to the local Wegman's and got a bunch of fresh fruit and coffee, and a paper. We enjoyed hanging out in the suite, then went to the 11:15 mass at the Annunciation Church (yes, that's a picture of a guy with no arms playing a guitar with his feet). Good priest, good service, and then it was time for the jazz brunch at the Bullfrog.
We wound up right in front of the trio, and they were good. Not deafening, either, thank God. I got a glass of Diabolique, a very nice Belgian strong. I always enjoy the Bullfrog, it's one of my favorite places. The big glass windows are nice, the beer's been excellent under Terry's steady hand, and the food's never disappointed. So it was today with something as simple as a mushroom omelette: really very good, although the potatoes could have been more done (I recognize this is a personal idiosyncrasy). I had a glass of stout with the omelette.
And that was about it. We got back in the Passat and headed home. A very nice trip to some places we hadn't been in a while and some places we'd never been. And some places I fully intend to visit again.
Adios, Amigo
You guys may have noticed that I have a fondness for old breweries. Particularly, I love the old regionals that struggle weekly against both the massive onslaught of the macros and the quick, sharp attacks of the micros. Places like Matt's, August Schell, Pittsburgh, and Yuengling.
One of my favorites of these is The Lion, in Wilkes-Barre. Part of that is because they've had such a long, tough fight --that they're slowly winning -- and because I really like the people there, particularly production director Leo Orlandini. Leo's been very good about answering questions honestly, getting me samples of their new efforts, and generally being helpful in my attempts to get information.
So when Leo sent me the following e-mail, I was interested.
I wanted to drop you a note to tell you of the big things that are
happening at the brewery. On January 16, 2006, we are removing our existing copper kettle that was built for us in 1954. We are installing a brand new stainless steel kettle from Briggs. This entire project should take two weeks. We plan on brewing again on January 30, 2006.
In addition, we are aging our Stegmaier Brewhouse Bock. It is a
traditional Bock. We will be bottling this in February. We are also working on our summer seasonal, Stegmaier Summerstock Lager! We will come back with the Anniversary IPA in July and then Stegmaier Octoberfest for the fall, and finally, our winter seasonal, Stegmaier Frolicking Festival. We are currently tasting and analyzing a ton of winter seasonals to see what we want to do. These are exciting times.
I got right back to him and asked if it would be okay if I came up to see the old kettle coming out. I've seen that kettle a number of times, the first one back in 1992, and seen the numerous improvements The Lion had put in since then: new grain storage, new mill, new lagering cellar, new CO2 system, new bottling line. This would be a replacement of the heart of the whole brewery, a big day for Leo, his brewmaster Bob Klinetob, and brewery president Chuck Lawson. I wanted to be there. Leo said yes, and we agreed I'd come up for the removal.
Well, things slipped a bit, as they often do, but only a week. I crawled out of bed early on January 24, grabbed a big cup of coffee and headed up the Northeast Extension to Wilkes-Barre. I got there about 8:00 on a beautiful winter morning (this was not to be one of the unseasonably warm days we had this January!), a second big cup of coffee in hand (had to stop to fuel the Passat, and figured more caffeine was a good thing). The day was cloudless and cold, in the low 20s, and ice crunched underfoot as I walked around to the office. As I turned the corner, I saw the new kettle, resting on its side, beside the office and the new grain silos.
I went in and gave them my name, and Leo came and got me, handing me a hardhat as we went out. There was a big crane looming beside the building, things were already underway. We climbed up to the kettle level, where the final cuts were being made on the copper dome of the kettle and the steel beam overhead. "We figure that we put about 300 million gallons through it," Leo said, over the percussive din of a pair of reciprocating saws and a torch.
The new one is the same size, just shy of 400 bbls., but "there's more heat area in the new one," said Leo; "so there's a more gentle heat on the wort. It has a fully enclosed wort stream, no more hot side aeration. It's going to be fully automated, so we'll have more control and more consistency in the boil." Leo said that the boil was "somewhat operator determined," saying that he could sometimes taste a Lion beer and know which operator had made it. He said that operator had let the kettle boil over, and tended to under-boil after that. No more, with the automated controls.
The new kettle was made by Briggs, a UK company with a Rochester, NY office, it was actually fabricated in Canada, and cost over $500,000. "Briggs works with the big guys," Leo said. "The confidence factor made them the choice." 400 bbls. is big iron, for sure, you don't want just anyone doing that.
The new kettle is not copper, as the old one was. What about that factor, I asked. Bob said that there were attachment points so that they could (and would) attach copper flanges at various spots to give the brew available copper. It does make a difference, and I was geek-happy to hear it covered.
The husband and wife crane team -- she's the operator, he's up above, cutting and talking on the radio -- soon had it under control, and the dome was shorn loose of its last connection. It lifted off the kettle and I ran for the stairs. I got down to the back of the building in time to get pictures as the dome emerged from the building, looking like a somewhat battered flying saucer against the bright blue sky.
Leo took me up on the roof after that so I could look down into the old kettle and see the three-tube 'rocket' (a brute-force kind of calandria, I guess) inside. After we came back inside he showed me the out-of-order grain elevator, an old bucket conveyor. It has to be replaced, and that's more money. "It never ends," Leo said of the constant work in keeping an old brewery running and trying to bring it up to date.
We decided that with the dome off, we could get in out of the cold and let the crew do their work, while we got down to ours: tasting a tank sample of the new Stegmaier Brewhouse Bock, "Der Bockbier mit Tritt" (roughly, The Bock with Kick). We settled in Bob's office/lab and sampled Bock from a lab flask. This is good stuff, I thought, and savored it (more thorough tasting notes to the right).
We blathered a bit about the upcoming seasonals mentioned above, which I think are a great move. Leo and Bob are very confident about the brewery's beer sales, and they should be, with stuff like this coming up. I hope to see more moves in this direction from The Lion.
I said good-bye around 10:00 and hit the road. Home in a little under two hours...and started writing like a madman, trying to hit the deadlines on articles I just finished last Friday. And now I finally got to write this. Stegmaier Brewhouse Bock should be hitting the streets this week; I'm looking for it on draft!
Oh, and one more thing. Leo e-mailed me last week, they'd done their first batch in the new kettle (after hook-up, cleaning and hot-water tests): the first batch they ran was Stegmaier. Wonderfully appropriate.

Mmmmm... onion goat tart.

Mmm, Don, this etoufee is almost as good as Cafe Nola's...but I'm older now, more responsible...

Matt "Beer Yard" Guyer bothers someone.

Patrick "the Tom Peters of the Suburbs" Mullin and Tom "the Patrick Mullin of Philly" Peters enjoy their Angel's Share

8/10/06 -- Berwick's future brewpub

8/10/06 -- Thomas scraping paint.

8/10/06 -- My sweaty self, just before I got doused with 5-year-old condensed steam. Yuck.

5/18/06 -- Me and Mark, thinking about whiskey (that's why we're smiling).

5/20/06 -- Cathy and the kids, in the wilds.

5/20/06 -- The Equinox Cafe, on the right half of the building.

5/20/06 -- Cathy welcomes us to the Bob Hope Suite.

5/20/06 -- My man Fred, flanked by his bartenders.

1/24/06 -- The old copper, stripped of connections and dignity.

1/24/06 -- The new kettle, waiting the call.

1/24/06 -- The Lion's kettle, blue sky, American flag: great day to be in Wilkes-Barre


1/24/06 -- Leo Orlandini and Bob Klinetob, in front of the kettle dome.

2/14/06 -- The Bock mit Tritt hits the streets.
I've moved my tasting notes to my new blog: Seen Through A Glass. Please join the tasting there, already in progress.
8/10 (my parents' 54th anniversary): Flying Bison Dunkelscoatsen: cherry dunkel, ?% ABV, Flying Bison BC, Buffalo, NY (draft). What's this based on? I dunno, someone give me a cheat sheet, but it tastes like a dunkel on cherries. I know there are cherries involved, Tim Herzog told me he picked them himself. This beer is wicked drinkable: not overdone on the cherries or the malt, the cherries aren't sickening sweet or piercing tart, and there's no astringency from the darker malts. There is VERY little of this one: get it NOW.
4/23: Stegmaier Summer Stock Lager: Pilsner, 5% ABV, The Lion Brewery, Wilkes-Barre, PA (12 oz. bottle, brewery sample). Second in the new series of Stegmaier seasonals. The Lion stayed classic with this one: a pilsner brewed with 100% German pilsner malt, kettle-hopped with Hallertau Hersbrucker, Ahtanum, and Czech Saaz (or Zateç, if you prefer), and dry-hopped with Ahtanums. Very Czech, and dry-hopped to boot. That comes across nicely in the bizzy-dizzy aroma: wild to smell hops this strong in a Lion lager! The drink itself is pure summer delight, lightly malty, crisply hopped, and a nice bitter finish. I'd really say this was more in the style of Budvar than Pilsen: the hopping is much more reminiscent of the former. My advice: get it and drink it, because it's good, and it won't age well. This is a beer to enjoy right now, to get that fresh hoppiness before it fades. Nice job.
4/23: Samuel Adams Brown Ale: Brown Ale, 5% ABV (estimated), Boston Beer Company, Boston, MA (12 oz. bottle, wholesaler sample). What a noseful! Wow, two big malty beers in a row, and both of them American- brewed ales; this is a treat. This Brown Ale is part of the BBC Brewmaster's Collection, which means...something to the folks at Boston Beer, I guess. It's classic in color: a nut-brown body capped with pale tan foam. The aroma is just pure malt, like being in the brewhouse during a mash, with a crisp edge of Noble hops in there, that floral razor. Mmmm, creamy, nutty, dry-malt, and balancing bitterness, with a long malty finish. This is what Newcastle Brown should be: ballsy, nutty, not afraid of itself. Boy, this stuff needs some food, like a hot roast beef sandwich, or a good crusty sweet roll. Damn me, this is food beer. Take a sixer to dinner, soon.
4/23: Otter Creek ESB: ESB, 5.5% ABV, Otter Creek Brewing, Middlebury, VT (12 oz. bottle, brewery sample). Yeah, here's one of those backed-up samples I was talking about below. But I've had it stored real cold, so we should be okay. We've got a copper-colored beer, a white/cream head, in fact, it looks a lot like a slightly paler version of the IPA below. But it sure doesn't smell like it. This one is full of biscuity malt and fruit notes, not the jazzy hoppiness of the IPA. Some grainy tinges, and a hint of darker roasts, just a hint, tweak this into a really interesting nose for the non-hophead. It's a big mouthful, too: full of that malt, and creased with bitterness...almost too much bitterness, and it lingers a long time into the finish. It almost tastes alt-like in its solid rock-bottomed bitterness, in fact, and that's not real ESB-ish, in a classic sense. Once I'm over that geeky disappointment, though, the OCESB really satisfies. Try thinking of it as a 'bruiser class' pale ale, a heavily muscled point guard, and I think you'll have it. Some real oomph in this glass, not as bitter as an IPA, but not as malty as a classic ESB, either. Otter Creek has managed to Americanize this style without bastardizing it. Hats off. Send more.
4/18: Otter Creek 15th Anniversary Ale: "New England" , 7.4% ABV, Otter Creek Brewing, Middlebury, VT (22 oz. bottle, brewery sample). Now... Otter Creek sends me samples pretty regularly. I've got a couple backed up, to be honest, and I'd like to apologize to them for that. But when this beer came last week, I couldn't wait. I put it in the fridge and got it cold for Easter, and that's when I had it, with our pork and onion dinner. Deep copper color sitting under a cream-white head tells the story: this is what I call a New England-style IPA. It's robustly malty, the hops are big but not overbearing, and the overall sensation is like a brisk sea breeze: clean, refreshing, powerful, and uplifting. Hop character spikes every part of the beer -- aroma, taste, and finish -- but never loses the rest of the beer. You familiar with Harpoon IPA? You oughta be, okay? This is Harpoon IPA after it got out of college and did a few years in the Army: whoa, dude, where'd you get those shoulders? This compares well with Magic Hat's HIpa, another fave of mine. Do like I'm going to do: go find a lot of this one, and drink it all within a month or so.
2/15: Victory 10 Years Alt: 'doppelstickealtbier', 8.5% ABV, Victory Brewing Co., Downingtown, PA (12 oz. bottle, at the brewery). This is Victory's 10th anniversary beer, probably a one-shot. You can read more details here. It poured reddish-brown with light-brown foam. The smell was big, sweet malt, with sugar cookie and 'circus peanut' notes in it. It's a big beer in the mouth, that hits you first with a big rush of malt that is quickly tamed by a steel beam foundation of solid hop bitterness. I've talked of IPAs with a "malt backbone," talked about HopDevil's load of hoppiness supported by a solid malt framework; this is the polar opposite. 10 Years Alt has a hop backbone, a steady carrier wave of hop that sings through the whole beer, from start to the long, long -- hell, the forever finish. There's so much good German malt in this beer that it would qualify as a doublebock (see Bill Covaleski's opening comments), but the hops keep it caged up and in line. There's only so much of this bountiful stuff: my advice is to get it -- and enjoy it! -- while you can.
2/13: Stegmaier Brewhouse Bock, "Der Bockbier mit Tritt": Bock, 6.2% ABV, The Lion Brewery, Wilkes-Barre, PA (12 oz. bottle, brewery sample). The first of The Lion's new line of seasonal releases under the Stegmaier label. I had a tank sample of this back in January, and it was nice, but this finished, filtered version puts it to shame -- not what I usually expect with tank vs. package. The beer pours a chestnut brown with a cap of light tan foam. Smells of malt and cookie ride the top. The only way to drink this one is in a big mouthful, and that's what I do: so smooooth! This is lager glass, with a fantastic dry maltiness to it, one of the best achievements of that elusive character I've had outside of Germany. The beer is clean as a whistle, with no hint of the 6.2% oomph. This is bock, not doppel, not mai, not heller, not honey, but bock, and I am happy to see it. Leo Orlandini and Bob Klinetob have nailed this one. Go out and find this.